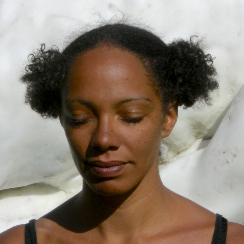 I have been a yoga practitioner/teacher for over 25 yrs. For me, cultivating a yogic lifestyle, living in harmony with nature, and simply being nice is my main focus. There is so much pseudo-spirituality around today that complicates and mystifies yoga to the extent that people end up confused and going around in circles. I feel that life can be very simple and yoga is absolutely simple when you have a basic understanding of the fundamentals. With that, you are empowered to develop and explore yourself safely and confidently. This is what I wish for everyone. Like any great joy in life, I hope that the precious jewel of yoga can be experienced and shared all over the world. I would love to see people live through the yoga teachings to explore their true nature and realize their full potential. It would be great if all of us that have been touched by yoga can find ourselves journeying inward with an open heart, awareness, good intentions, and a connection to our inner wisdom to enrich our own, and the lives of people all around us, with relaxation, peace, joy, smiles, laughter, and love. Most of all I would like yoga aspirants to rediscover yoga as a spiritual path in a relaxed, easy-going, and nourishing atmosphere, learning through the integral teachings that have been graciously left to us by the great yogis, saints, and spiritual master of our past."
Join Scarlett for a simple practice with step by step instruction to empower you to move safely and effectively through yoga posture practice.
This practice includes 3 videos:
Video 1: Intro Ujjayi pranayama which we use when we are practicing postures dynamically
Video 2: 10-minute warm-up to prepare you for the 40-minute class
Video 3: A 40-minute flow yoga class with step by step instruction to keep you flowing safely.
Equipment: Yoga mat
Body focus: All
Difficulty: easy