Day 1
Module 1.1 My Personal Journey & Introduction to the Course
Day 2
Module 1.2 Types of Orgasms
Day 3
Module 1.3 Yin & Yang & Arousing of Female Sexual Energy
Day 4
Module 2.1 Yoga and Orgasms
Day 5
Module 2.2 Yoga Practice: Personal Experience
Day 6
Module 2.3 Pre-Practice Yoga Theory
Day 7
Module 2.4 Explanation of Yoga Practice
Day 8
Module 2.5 Yoga Practice
Day 9
Module 2.6 Yoga for Opening the Heart
Day 10
Module 2.7 Limiting Programs and Self-Suggestions
Day 11
Module 2.8 Practice to Let Go
Day 12
Module 3.1 Explanation of Yoni Yoga Practice
Day 13
Module 3.2 Yoni Yoga Personal Experience
Day 14
Module 3.3 Yoni Yoga Practice
Day 15
Module 3.4 Connecting Sexual Energy with Love Energy
Day 16
Module 4.1 Loving My Body Personal Experience and Recommendations
Day 17
Module 4.2 Loving Your Body Practice
Day 18
Module 4.3 Benefits of Breast Massage
Day 19
Module 4.4 Breast Massage Personal Experience
Day 20
Module 4.5 Breast Massage Practice
Day 21
Module 5.1 Releasing Inhibitions
Day 22
Module 5.2 Sensual Dance Personal Experience
Day 23
Module 5.3 Sensual Dance Practice
Day 24
Module 5.4 Sensual Dance Practice Tips from Miss Redina
Day 25
Module 5.5 Sensual Dance Choreography
Day 26
Module 6.1 Surrendering to the Depth of a Man
Day 27
Module 6.2 It is in Giving that We Receive
Day 28
Module 6.3 Yoni Massage Personal Experience and Recommendations
Day 29
Module 7.1 Whole-Body Orgasms
Day 30
Module 7.2 Guiding Sexual Energy
Day 31
Module 7.3 From Sex to Superconsciousness!
Day 32
Module 8.1 Integrating Sensuality into Daily Life
Day 33
Module 8.2 Daily Life Practice
Day 34
Module 8.3 Practice to Release Tension
Day 35
Module 8.4 Conclusion: Relaxation is Who You Truly Are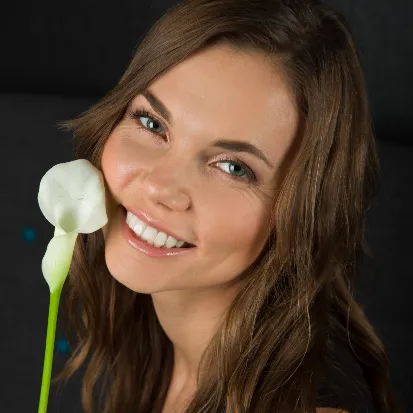 Karolin Tsarski
Karolin Tsarski is a renowned Tantra Yoga practitioner and a strong believer that pleasure is the source from which we all originate. She took a different course that positively influenced her and helped her connect with her womb wisdom. Currently, she assists other women in finding their inner wisdom. Sharing her experiences and teachings can help them become strong as they use her practices and teachings to connect to themselves, to their own womb wisdom. Which is already there, just waiting to be awakened. According to her, we all possess the true teacher within us. The techniques she shares help women connect to their true selves, flourish, shine, and radiate!
8-week engaging course with 2 live online masterclasses with Karolin

Those who wish can share the experience of the previous week. You can ask questions both directly and in advance if you prefer to remain anonymous.
Access to all lectures
Access to theory-related practice videos
Recommended homework guidelines
2 recurring live masterclasses every four weeks/1 month
Live sessions are flexible and the client can choose when to take the session from a few options every month.

Who is this course for?

You are not physically very experienced and wish to get to know yourself better.
You are in a committed relationship but have lost passion and pleasure.
You have various physical experiences, but feel, that you haven't felt deep satisfaction.
You have had emotionally challenging physical experiences or traumas, and wish to safely reconnect to your body and its functioning.
You are curious and wish to expand your pleasure.

Why is it important?

If your carnal energy doesn't flow freely, it's possible that you become numb and anorgasmic (not experiencing pleasure) or even feel pain during the process. We may have difficulties in setting boundaries and expressing our needs and wishes. Our self-confidence and energy levels drop and we don't feel satisfied. In this situation, it is difficult to attract a partner or maintain such an important dimension of a relationship if you are in one.

In our society male pleasure is prevalent and it is common that the natural expression of female bliss is suppressed we have taken on more male expressions of dominance to achieve recognition and acceptance. This disconnection from our natural feminine bliss can have an impact on all aspects of our life.

What will you get from this course?

Physical intimacy and pleasure

Increase body awareness
Take your pleasure to the next level and learn to experience deeper satisfaction
Learn to experience and guide the movement of carnal energy

Self-confidence and connection with yourself

Connect deeper with yourself and your carnal energy
Learn to express your sensuality freely
Learn to connect to your feminine essence, empowering you with lifeforce

Peace of mind and inner clarity

Learn to be present
Learn to focus on yourself and deepen relaxation
Learn to let go of stress and anxiety

Healing and emotional balance

Learn to let go of emotional and intimate blockages
Learn to let go of shame, guilt, low self-esteem, and negative body image
Balance your emotions, increase energy and creativity

About the teacher

I have been on a long personal journey looking for a connection with my carnal energy. I share my journey, insights, and practices, so you too could feel feminine desire, deep bliss, and orgastic experiences. Working with sexual energy changed my life. It has improved my physical health and brought my emotional and mental well-being into balance. It has improved my self-confidence and positive outlook on life, making life more fulfilling generally. Being connected to the feminine essence gives the energy to enjoy the moment and also focus on working towards goals.

Course Program

1. Module 1 Introduction & my personal journey towards deeper pleasure

My personal journey from blocked satisfaction to awakening orgastic potential
Different kinds of pleasure
Differences between masculine and feminine carnal energies. Respecting, acknowledging, and accepting expression of desire.

2. Module 2 Yoga, letting go, coming to presence

Foundations of tantric yoga, its physical, energetical, emotional, and mental impacts
Yoga practice as the basis for deep satisfaction
Yoga practices to awaken, expand and guide carnal energy
Becoming aware of mental programming & practice relaxing and letting go
Yoga practice for opening the heart

Result:

You will understand the deep connection between yoga and the body
You will be able to awaken and expand your bodily energy, sense it deeper, and guide yourself to reach whole-body pleasure
You will have increased awareness to notice blockages and limitations, which stop you from enjoying yourself
You will be able to be more at the moment and let go of the unnecessary

Module 3: Awakening physical energy

Connecting deeply to your bodily energy through pelvic muscle practice
Sensing and awakening energy in your yoni
Self-massage techniques to awaken carnal energy
Connecting bodily energy with heart energy

Result:

You will know to awaken your desires and do practices, which increase sensitivity in the body and change experiences more pleasurable and deeper.

Module 4. Creating a harmonious relationship with your body

Awareness and relationship with your body, your yoni, and accepting your body
Breast massage- healing massage for breasts to awaken energies on a heart level, accepting breasts, increasing sensitivity and sensuality in the breasts

Result:

Accept your body and drop comparison to feel beautiful, sexy, and relaxed.

Module 5. Expressing your sexuality

Releasing shame, guilt, and physical embarrassment to learn to express desires freely
Sensual dance teacher Miss Redina's tips, movements, and choreography for sensual dance practice

Result:

You have the courage and confidence to express your sensuality and physicality without embarrassment, guilt, and shame and to do it also with a partner in a physical context.

Module 6: Deepening connection with your partner

Differences in giving from surrender and giving of obligation
Pleasure vs pain in the yoni
Giving and receiving

Result:

You will understand the main differences between feminine and masculine physical energy expression, your needs as a woman, and the attitude you can take as a woman to deepen the connection with your partner.

Module 7. Whole-body pleasure

How to expand physical pleasure to subtle planes
Moving carnal energy throughout the whole body
Practices to reach whole-body pleasure

Result:

Awareness of bodily energy
You will know to awaken, feel and guide your energy throughout the body

Module 8: Better sex and daily life quality

Daily life connection to pleasure
Celebrating pleasure in daily life
Making each moment erotic
Accepting pleasure in daily life
Practice letting go of tensions accumulated in daily life

Result:

More relaxed and pleasurable daily life and pleasure
489
Teacher Course
Karolin Tsarski