Hands balance preparation. Wrist and shoulder opener.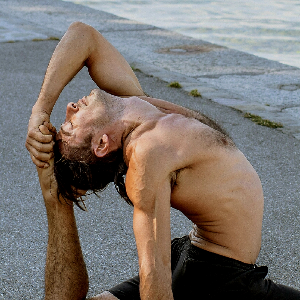 As a result of my personal practice, my teachers and the different
disciplines that I study each of my lessons gives you a sense of spaciousness and freedom. Yoga is much
more than asanas, that's why I start my classes remembering the true meaning of yoga, my goal is to
give a sense that we can always do yoga. My lessons are challenging physically and psychologically
delivering in English and Sanskrit with my selected music including a lot of demonstration and hands
assists. My goal is to continue going deeply and deeply in a yoguic lifestyle.
EDUCATION & CERTIFICATION
Institute of Physical Education N ° 9-016 "Dr. Jorge Coll "Godoy Cruz,
Mendoza.
Title: Senior Technician.
2006-2009.
EPSA Training Institute. Federal Capital, Argentina.
Title: Lifeguards in Reservoirs and Rivers of the Province of Mendoza.
2009.
200-Hours Teaching Training
Maa Yoga Ashram, Rishikesh, India.
2016.
YOGA
Yoga and Acroyoga Teacher
Maa Yoga Ashram, Rishikesh, India.
February March 2016.
 Hata Yoga Instructor: antirheumatic, senior daily lessons.
 Acroyoga Workshops 4 days a week. Entering the yogi community.
Project promoted and started by me.
 Encouraged new students come to Maa Yoga Ashram and Acroyoga
Workshops.
Yoga Teacher
Mudra Yoga Studio Studi, Pokara Nepal
April-May 2016
 Ashtanga vinyasa Instructor: into primary serie.
Yoga Teacher
Studio professional of physiotherapist "IL Movimento "
Ferrara, Italy. 2017-2019
 Hata Yoga Instructor: Senior lessons
 Ashtanga vinyasa: 3 different levels, introducing, primary series,
intermediate series.
Yoga Teacher
Feelgoodyoga.ch Lausanne Switzerland 2020.
 Hata vinyasa Yoga
Yoga Teacher
Casa OM Mazunte Oaxaca Mexico. 2020-2021
 Power Vinyasa Yoga
David Fraile
CONTACT
+393703707963+393703707963
Yoga.fraileYoga.fraile
@yoga.fraile@yoga.fraile
OTHER SKILLS AND TRAININGOTHER SKILLS AND TRAINING
Circus: silk, trapezium, jugglingCircus: silk, trapezium, juggling
Slack line.Slack line.
Capoeira.Capoeira.
Acroyoga: intermediate/advanceAcroyoga: intermediate/advance
Acrobatics.Acrobatics.
Handstand. Handstand.
Hello!
This is a course of 3 lessons to open, reinforce and stretch your wrists and shoulders to prepare them for hand balance. I love to teach hands balance asanas but to be able to perform those asanas we need to prepare our wrist. In this 3 videos I give you essential information and exercises for wrist and shoulders. Enjoy the course!
The video number 1 is all about wrist. Is multilevel. Take care of your wrist and enjoy.
Equipment: Yoga mat
Body focus: wrist and hand
Difficulty: easy