Day 1
Course Intro for Pranayama for Everyone ...
Day 2
How to sit for Pranayama Practice...
Day 5
Maha Yoga Pranayama ...
Day 8
Pre Asana Pranayama...
Day 9
Pre Meditation Pranayama Practice...
Day 10
Morning Wake Up Pranayama Practice...
Day 11
Bedtime Pranayama...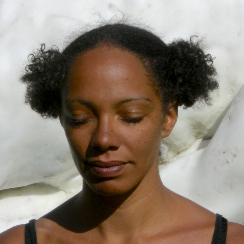 I have been a yoga practitioner/teacher for over 25 yrs. For me, cultivating a yogic lifestyle, living in harmony with nature, and simply being nice is my main focus. There is so much pseudo-spirituality around today that complicates and mystifies yoga to the extent that people end up confused and going around in circles. I feel that life can be very simple and yoga is absolutely simple when you have a basic understanding of the fundamentals. With that, you are empowered to develop and explore yourself safely and confidently. This is what I wish for everyone. Like any great joy in life, I hope that the precious jewel of yoga can be experienced and shared all over the world. I would love to see people live through the yoga teachings to explore their true nature and realize their full potential. It would be great if all of us that have been touched by yoga can find ourselves journeying inward with an open heart, awareness, good intentions, and a connection to our inner wisdom to enrich our own, and the lives of people all around us, with relaxation, peace, joy, smiles, laughter, and love. Most of all I would like yoga aspirants to rediscover yoga as a spiritual path in a relaxed, easy-going, and nourishing atmosphere, learning through the integral teachings that have been graciously left to us by the great yogis, saints, and spiritual master of our past."
As a big lover and teacher of pranayama, I have been teaching breathing practices on yoga teacher training courses for over 12 yrs and I would love to share some basic practices with you. In this pranayama course, we will learn the what, why, and how of 5 breathing techniques:
1) Cleansing Breath
2) Maha Yoga Pranayama
3) Ujjayi
4) Kapalabhati
5) Nadi Shodhana
And then we will practice the techniques together in 4 individual and unique pranayama practices:
1) Pre Asana Pranayama: This is the perfect sequence of breathing practices to complete before you begin your asana practice
2) Pre Meditation Pranayama: It's highly advisable to practice some pranayama before you enter a meditation practice. This sequence of practices will help to settle and balance your energies and focus your mind in preparation for meditation.
3) Wake up Pranayama: Do you struggle to get going in the morning? Start your day with this short and sweet breathing practice that will have you feeling fresh, alert, and ready to start your day.
4) Bedtime Pranayama: Do you have difficulties going to sleep at night? This pranayama set is the perfect way to end your day and support you into
5) a deep and restful sleep At the end of this course, you will understand the effects and benefits of each of the breathing techniques introduced and you will be able to practice those techniques with skill and know-how in different sequences for different purposes. I hope you can join me for this amazing healing and transformative practice.
Blessings and love to you all.
Please contact me if you have any questions or need any extra support. AUM
Equipment: Yoga mat
Body focus: Breathing
Difficulty: easy